Toys to Work Your Dog's Brain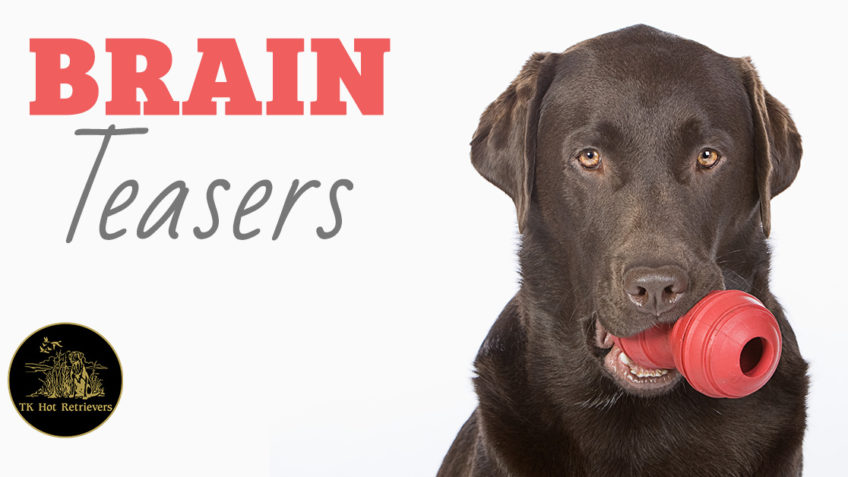 Our dog's love to exercise, and it is extremely important to provide that for them. It's also important to feed your dog the right foods for their body. As good pet parents, we know this. But what do we sometimes forget to do for our dogs? One thing we may overlook that is also key to our dog's happiness is stimulating their minds and challenging them mentally. Just as we need some stimulation to feel happy and entertained, so do our dogs. A bored dog is misbehaved dog. Luckily, there are a lot of toys on the market specifically designed to give our dog's some stimulation and make their brains think a little bit harder.  Here are a few great choices you need to pick up to improve your dog's behavior and happiness.
Our Pets IQ Treat Ball
The Pets IQ Treat Ball is a great toy that makes your pup work for their treats. The toy is super simple- just fill it with your pup's favorite treats and adjust the difficulty level. Then throw them the toy and watch them spend hours working for some yummy snacks. The treats will fall out as they roll around the ball and play with the toy. This toy promotes healthy, slow feeding, but also adds a workout (both mentally and physically) to your dog's meal time. You can continue to up the difficulty level as your dog gets better. The treat ball also twists apart for easy cleaning and comes in 2 different sizes!
Kong Wobbler
The Kong Wobbler is not only a great boredom buster, but is also a really challenging toy for your dog. With this toy, you just pop in your dog's favorite treats or food and let them go at it. The toy dispenses food or treats over time, allowing your dog to be challenged and entertained for hours. The wobble action is an added problem for your pup to try to overcome. Another perk of this toy is that it prevents your dog from over or rapid eating, since the food/treats are harder to get. The twist off dispenser allows you to easily fill up the Kong for your dog, making it a simple and easy to use toy.
Ethical Pet Seek-A-Treat Shuffle
This puzzle toy is another great option for strengthening your pup's mind. The Ethical Per Seek-A-Treat Shuffle is made from sturdy wood pieces that your dog has to move around in order to find their treats. It helps to keep them occupied, but it also is a training mechanism. With this toy, your dog will start to think about their actions and the results of them, helping them be smarter and better trained. They'll also have better behavior from having some mental stimulation. It is a fun way to test them and make them work for their treats, but also just a fun toy to leave them with when they're alone.
TRIXIE Activity Board
The last toy we have is the TRIXIE Activity Board. This toy comes in multiples styles and difficulty levels, so you can keep challenging them over time. Each toy is designed to offer many different challenges within the toy. Whether it is separate boxes to find a treat or a tower, there a few different setups. These toys come with a booklet that gives you tips for how you can use this toy to mentally stimulate your dog and use puzzles for training!
We hope you have some new toys you're going to pick up or order for your dog. They'll definitely thank you and love having a new toy to play with, but also it will keep their brain and body sharp. Have fun!