Tips for Keeping Your Pup Sharp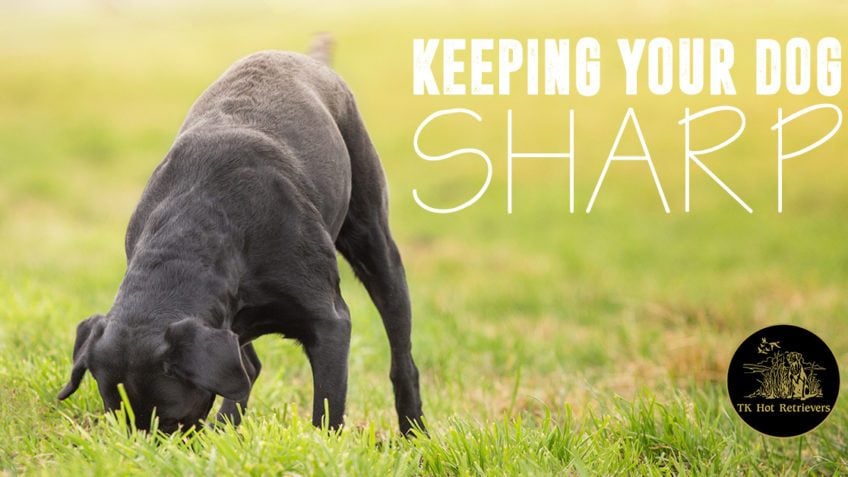 Keeping our dogs physically fit and getting enough exercise is always a priority for dog owners. But what sometimes falls to the back of our minds is keeping our dogs mentally sharp as well. The way a dog thinks directly translates into the way they act. The more you give your dog's mind a workout, the more you will see a difference in their behavior. A dog's cognitive ability encompasses everything from how they communicate to solving problems to remembering tricks. A dog's mind is clearly complex, meaning you have to spend just as much time keeping their brain sharp as you do keeping them physically fit. Since hunting dogs need to be smart and intuitive, it is even more important for you to be sure you're spending time working on cognitive skills. Here are some tips for how you can keep your pup's mind in tip-top shape!
Advanced Training
While you probably work on training with your dog all the time, there are some more advanced methods that really challenge your pup. Agility training and courses are extremely fun for dogs, but also make their brain work hard as well. They have to decide what the best route is to successfully complete the course, work on jumps, and also remember the course for the next round. Nose work training is also challenging for dogs and a great way to work on training their mind.
Put a Twist on Old Tricks
There are a few different ways you can take things your dog already loves and make them more challenging. One example is hide and seek. Hide and seek makes your dog strengthen their sense of smell, but also work on their memory. One easy way to do this is to put your dog's dinner in multiple places and make them search for it. You can also hide toys around the house and increase the difficulty of hiding places. Another way to work on memory is to name each of your dog's toys. Call each toy the name when your dog is playing with it and work on having them remember each name. Eventually you can ask your pup to choose between two toys by name.
Nutrition
While you may think that feeding your dog the right food only affects their physical health, it also can affect their mental health! Purina researchers found that medium chain triglycerides (MCT's) from coconut oil and palm kernel oil provide great energy sources for aging brain cells. In another study, it was found that these same MCT's also seem to help other cognitive ability like memory and attention. Look for dog foods that contain these types of nutrients, such as Purina Pro Plan Bright Mind Adult or Purina Pro Plan Bright Mind 7+.
There are so many different ways that you can help to get your dog's brain sharp and challenged. While it will make them a smarter and more well-behaved dog, it will also give them an overall happier life! What's your favorite way to train your dog's brain?