April 2020 Litter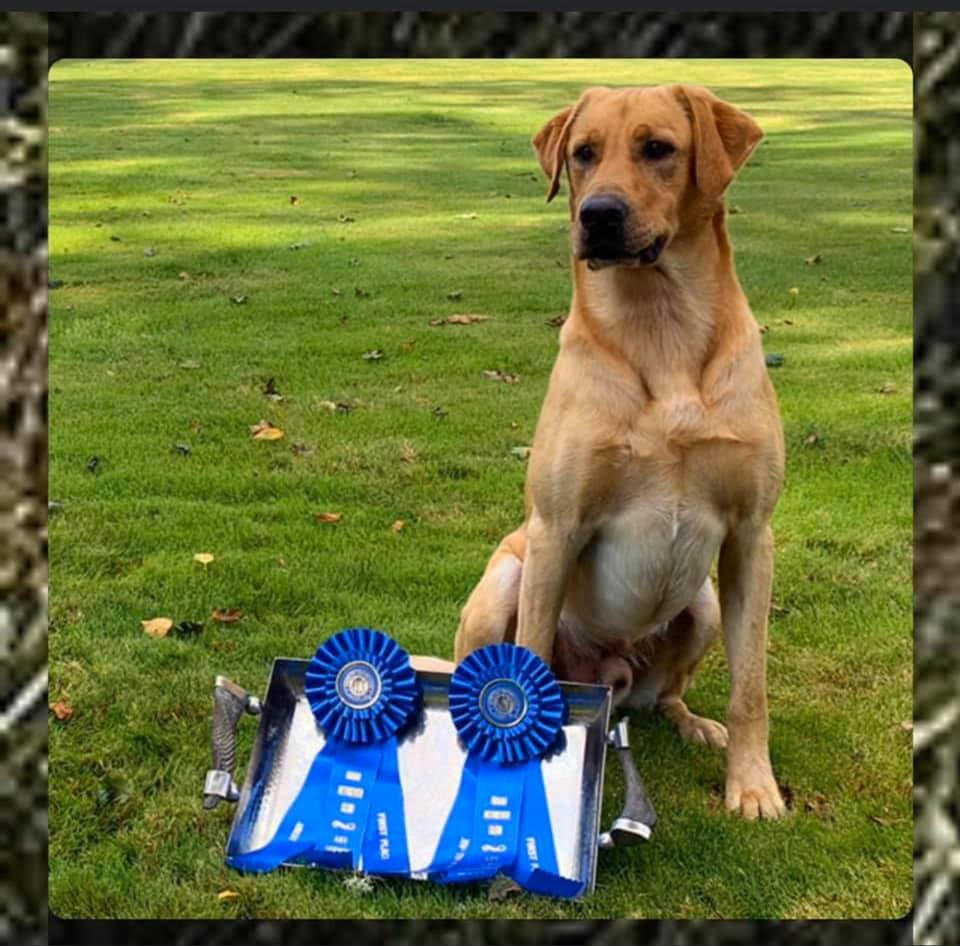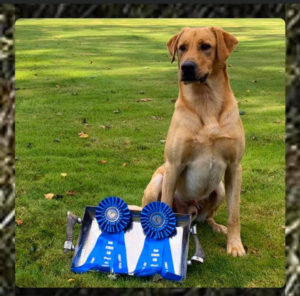 All Yellow Litter born 04/17/20 sired by FC Just Floyd. Floyd is an incredibly talented dog who finished his FC as a 2 year old with two open wins – one of which he won the same weekend as a derby win. He finished 5 series at the 2019 National Retriever Championships as a 2 year old. He has 4 QAA fullsiblings/littermates and between all full siblingsthere are 114 derby points. In addition, Floyd was the youngest dog to qualify and run the 2019 National Retriever Championship.OFA Excellent Hips, CNM & EIC CLEAR. The dam is 60 lbs of twisted steel and dynamite.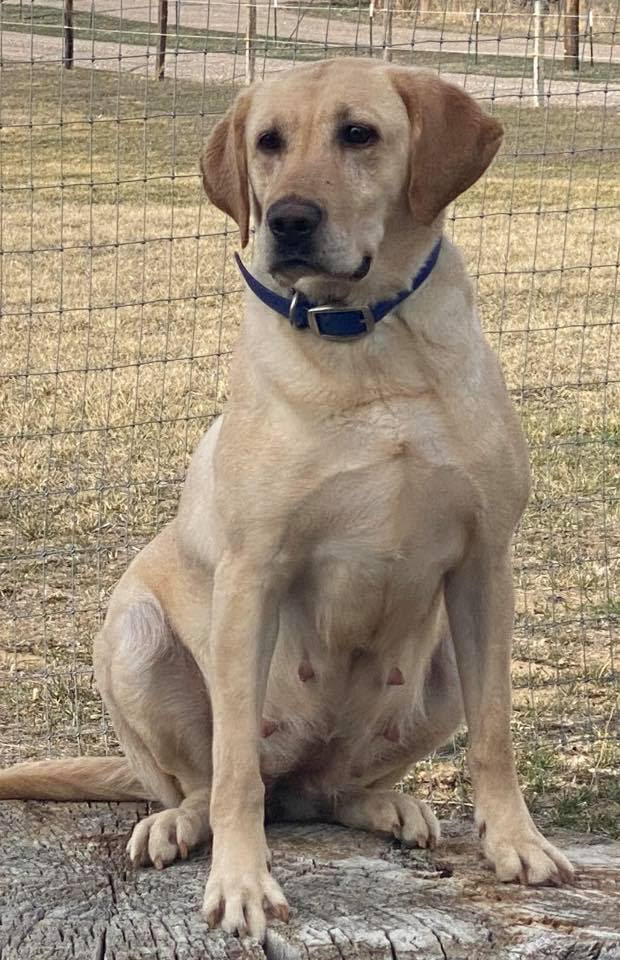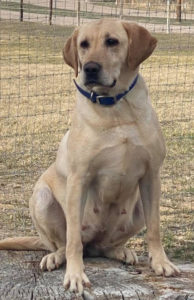 Kaya aka TK Hot Take to the Limit II. OFA Excellent Hips CNM & EIC CLEAR should have been on a pros truck to run competitively. She is a very serious, high energy, bird finding machine. She actively picks up several hundred ducks and geese every year. Traveling the country hunting from Idaho to Arkansas. She is a proven producers of serious working & hunting dogs. In previous litters she has produced 6 puppies who are Law Enforcement Bomb Detection Dogs and 2 USMC IED Detection Dogs. Kaya also has a classic blocky head and a very well muscled masculine looking female. Her pedigree consists of top FC AFC's.
5 Females & 2 Males: $250 Deposit – Males $1500 & Female $1750
Past Litters
February 2019 Litter
Ava is OFA Excellent Hips, Elbows Normal, Eyes CERF, CNM and EIC CLEAR by Pawprints Genetics Lab. This is a Repeat Breeding with Proven super stars from each previous litter including multiple DOJ TASK FORCE
Detection Dogs
Fema Urban Search Dogs
Cert Mountain Avalanche Search Dogs
Dock Jumping World Championship Qualifiers
Agility Champions
Hunt Test Competitors and incredible Hunting dogs.
This cross has proven to produce pups with INTENSE DRIVE and ENERGY and therefore WILL NOT BE SOLD TO PET HOMES.
$1250 with AKC FULL REG and 3 year Genetic Health Guarantee.
Ava's Pedigree Kohl's Pedigree
Fall 2017 Litters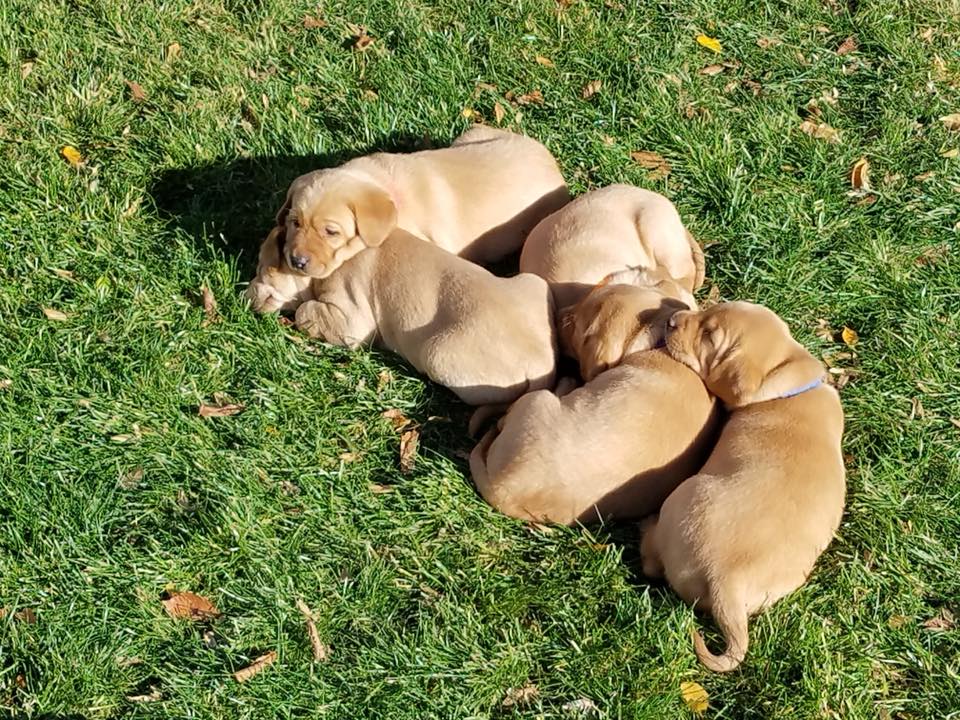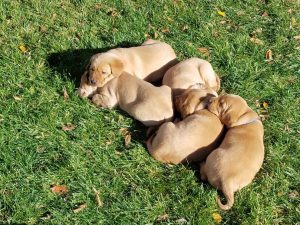 As with all of our litters picks are chosen by order of deposits received.
Puppies are priced at $1250 unless other wise noted on specific litter. A $250 deposit is required to be placed on the litter list. All deposit are NON-REFUNDABLE but may be moved to a future litter.
We only take 3 deposits for boys and 3 deposits for girls from each litter. After that we will start a waiting list for people who are interested in a particular litter.
As 90% of the time a female will give birth to more then 6 puppies. If you see a litter that you are interested in but, there are already 6 deposits free feel to call and be put on our waiting list.
Litter #1
Chocolate Factored Blacks
A litter of 10 gorgeous black puppies were born July 30th, 2017. Sired by "Kohl" aka Revitt up Kohl Expect Great Things JH OFA Good. Not only is Kohl and experienced hunting dog with well over 550 waterfowl retrieves in his hunting career, He is also staunch natural pointing Labrador and one of our best pheasant dogs. But Kohl is far more famous for being the current Boise State Tee Dog, Boise Hawks Bat Dog and the dog known for sinking a jump shot from the free throw line at a BSU Basketball Game. Kohl is the ONLY Boise State Tee to have multiple special presentations and features on ESPN, ESPN 2, CBS Sports and Sportscenter. Kohl is also a proven sire of SERIOUS working Dogs and has several sons working as Detection Dogs for the DOD, DOJ and local Police agencies around the world. His puppies are
always in high demand.
The Mother, "Ava" aka TK Hot Sheza Quack Addict JH is OFA Excellent a chocolate JH titled female and dam of numerous Hunt Test Dogs, Incredible Waterfowl Dogs and DOJ Detection Dogs. Ava is our personal house dog, hunting partner and family companion. Ava has well over 750 retrieves in her hunting career. She didn't even start her Hunt Test career until she was 5 yrs old. She passed her JH title without a fail. We were preparing Ava for her SH title and were planning on running her in a few weeks. That will be put on hold for this litter sired by "Kohl". If you were thinking of getting a intensely driven, water loving, bird finding hunting machine this is the litter for you. This litter WILL ONLY BE SOLD TO HUNTERS or Professionals who need a seriously driven working dog. They will not be sold to PET homes.
Ava's Pedigree Kohl's Pedigree
Litter #2
A Great working litter of TK Hot Retrievers on the East Coast QA2 Sniper x Halo JH
If you are in S.E. you need to see these puppies. TK Hot Golden Halo JH. Has been bred to QA2-Red Squads Fifty Caliber "Sniper". Sniper is 63lbs of twisted steel and dynamite. An incredible up and coming young Field Trial Competitor. "Halo" is 55lbs of Gun Powder and Lead. A very serious working female who is a an absolute rocket in the field. Expecting Blacks and yellows. These pups will be intense working dogs and not for the faint of heart. Please contact Chris Laseter in Atlanta, GA for more info. (770) 401-7114
UPDATE: Halo gave birth to 7 beautiful babies
2 Black Females (1 still available)
1 Black Male (available)
2 Dark Yellow Males (SOLD)
2 Dark Yellow Females (available)
Sniper's Pedigree Halo's Pedigree
Litter #3
A spectacular litter of Dark Yellows (Known as Fox Red) expected to be born at the end of September 2017
Sired by "Willy" aka Duck Busters Little Rough N' Tuff Willy is 58lbs of true hunting Labrador. An ambassador for the breed. During his first hunting season with us he picked up more than 70 birds. He has never met a stranger and loves everyone. He lives for my son Cade who handles him in events and hunting. Willy is the perfect house dog and has been always super gentle with my wife's Show Boston Terriers. While he is truly a super intense dog while hunting in the field, Willy has a very calm demeanor in the house. People who want a Part time hunting dog and full time house companion would be hard pressed to find a better dog then Willy. He truly has an "OFF" switch. It is not uncommon to see him lying on the couch or sleeping in my son's bed. He is great around everybody and especially loves kids. Willy totally ignores male dogs who may get aggressive. Genetically speaking Willy comes from one of the strongest field bloodlines in the country. His pedigree includes some of the top producing field champions in AKC history including 2xNAFC 2xCNAFC FC CFC Ebonstar Lean Mac. In limited breedings Willy has produced than a dozen National Certified Detection Dogs working for the DOJ, Homeland Security, local Police and Sheriff Departments from Washington to Maryland.
The mother "Molly" JH a true dark Fox Red is a very special dog to us. While we own and train Molly she lives with our very close and trusted friend Michael. Molly is a 100% house dog. She is so very calm a lot of people wonder if she can even hunt. The answer is HELL YES. Molly has picked up more then 1000 birds in her hunting career. She is also an incredible pointing Labrador. Her pedigree reads like the who's who of top Field Champions in the US and Canada. A Direct daughter of FC Riparian Windfall and granddaughter of FC AFC Tayorlabs Downtown Dusty Brown. Molly has produced multiple titled Hunt Test offspring as well as Detection Dogs and World Dock Jumping competitors. If a calm personality with the intensity in the field is what you are looking for the Willy x Molly litter is it.
UPDATE: 6 Deposits have been taken on this fantastic breeding. If you would like to be placed on a waiting list please contact us.