Tips for Brushing Labs Teeth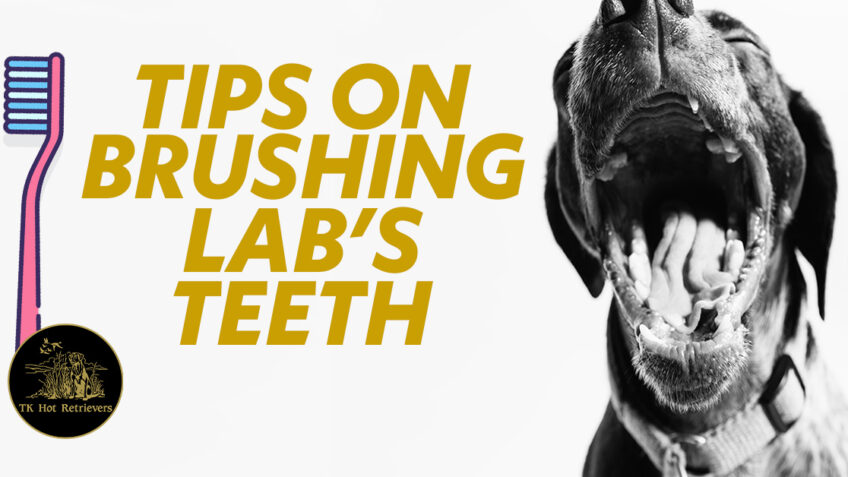 Brushing your Lab's teeth is just as important as it is to brush your own. Taking the time to brush your pup's teeth a few times a week can make more of a difference than you might think. At first, this can sound like a lot, but the more you brush your Labrador's teeth, the easier it'll get for both of you.
Necessary Items
Before you even get started, you'll need to make sure you have all the necessary tools. Luckily, all you need is a toothbrush and toothpaste that are made for canines. You can find special kits at your local pet stores or online that sell the two items together. You can even find toothpaste flavored to taste like chicken or peanut butter, which your Lab would love.
When & How You Act is Important
Picking the time to brush Fido's teeth needs to be intentional. You definitely don't want to try sticking a brush in their mouth after a big event that might have them riled up. Instead, choose a time when things are typically more relaxed and then try to stick to that time so you can make a routine out of it.
When it's toothbrushing time, you don't want to put your Lab in any additional states of distress by looming over them or holding them down. You have to approach the situation and your pup with a calm and friendly attitude. If your canine seems a bit on edge, consider doing a warm-up session by taking your finger and rubbing it over Fido's teeth in a brushing way. This can help them get used to the motion and make it less scary.
Helpful Techniques
Brushing a dog's teeth already doesn't sound like the easiest task in the world, and it probably won't be. But, here are a few tips that can help things run more smoothly
Expose their gums: take your clean finger and pull up your pup's lip to expose their gum line. This will give you a much better visual when checking for any obvious or severe issues.
Brush at an angle: after you put paste on the brush, tilt it at about a 45-degree angle so you can work the brush gently along their gum line.
Use your time wisely: you don't want to test Fido's patience during an activity they're already not too thrilled over. So, try to limit yourself to only a couple of minutes of cleaning. Try to spend most of your time focused on the outer edges of their teeth.
If your Labrador seems to be bleeding from their gums, don't be alarmed. Occasional bleeding from the gums is normal, but if it's happening regularly, this may be a sign that you're brushing too hard.
Ending on a Good Note
Try to always end your brushing sessions on a positive note with a reward. Give your furry friend a bounty of verbal praise, and maybe even throw a dental dog treat in there to teach them that this is a positive activity.
Brushing your Lab's teeth probably won't turn into anyone's favorite activity. But you can make it an effective and seamless process by following these tips.