The Best Dog Treats to Feed Your Lab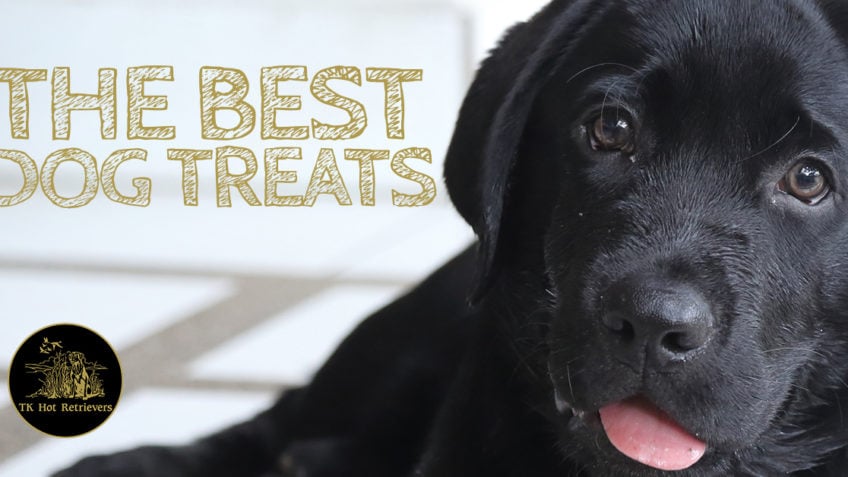 As a pet parent, you want what's best for your canine companion. Part of that means providing them with the best treats for their diet (that they'll actually eat). When thinking about the best treats to feed to your Lab, it's important to think about what they'll be used for and what qualities in a treat are most important to you.
All-Natural Dog Treats
One way to ensure your canine is getting all-natural treats is by feeding them vegetables or meat. Another option though, is to buy dog treats that are created with natural and organic ingredients in mind.
Hill's Ideal Balance Soft-Baked Naturals 

Hill's Ideal Balance Soft-Baked Naturals are proudly made in the USA and claim to use real beef as its primary ingredient in their natural dog treats. They're also free of grain, corn, wheat, soy, and artificial preservatives, colors, and flavoring. The Soft-Baked naturals come in beef, chicken, and duck.
Natural Balance Limited Ingredient Dog Treats 
Another treat that is free of grains, artificial flavors, colors, and preservatives is Natural Balance Limited Ingredient Dog Treats. Instead of being soft-baked treats, though, these treats have a crunchy texture. They offer four different sized bags which can be helpful if you're a pet parent to multiple pups or like to stock up.
Blue Buffalo Wilderness Dog Treats
Blue Buffalo Wilderness Dog Treats are packed full of protein. They do leave out any gluten-containing grains and promote the use of real meat.
Treats for Training
Treats that you use for training will be given in more significant amounts and on a regular basis. Because of this, it's important to keep in mind that feeding your pup the wrong kind of treat could significantly impact on their health.
Coachie's Training Treats
One great thing about Coachie's Training Treats is their size. They are made to be mini so they allow you to repeatedly reward your lab during training without overloading them on treats. Not only does Coachie's does provide a convenient way to reward your pup with treats during training, but they are also free from any artificial preservatives, colors, and flavorings.
Fruitables Crunchy Dog Treats 
Fruitables Crunchy Dog Treats are deliciously baked biscuits that come in natural flavors like pumpkin and banana. These treats are also made smaller in size, which is again helpful when trying to treat your Lab in moderation. Be aware though, that natural fruits and vegetables do contain a higher amount of barley, sugar, and carbohydrates.
The Healthier Options
What is and what isn't healthy for you Lab can sometimes be a grey area, debated among experts. The following treats, though, only use high-quality meat and limited fillers.
Core Superfood Protein Bars
Often mistaken as a snack for humans, Core Superfood Protein Bars are an excellent option for giving your pup a special treat. These bars are definitely meant to be used as a one-off treat, and not for training. Due to their large size, they can't be broken down to smaller sizes you would want for a training session. However, they're excellent for special occasions or when you canine does something to deserve a bonus treat.
Hill's Science Diet Jerky Strips 
Hill's Science Diet Jerky Strips are healthy strips of jerky made from real chicken. They can be easily broken into smaller pieces if you think one strip is too big for your pooch, or if you want to add them to your dog's training treat bag. These jerky strips are intended to build and maintain muscle in your furry friend.
Rocco & Roxie Liver Treats for Dogs
Another treat that's easy to break apart is Rocco & Roxie Treats for Dogs. They have score lines that make breaking off measured pieces super easy.
Depending on what you're using your Lab's treats for, there will be variations on what treats are best for them. Plus they also have to enjoy the taste of them!