Tips for Building a Dog Run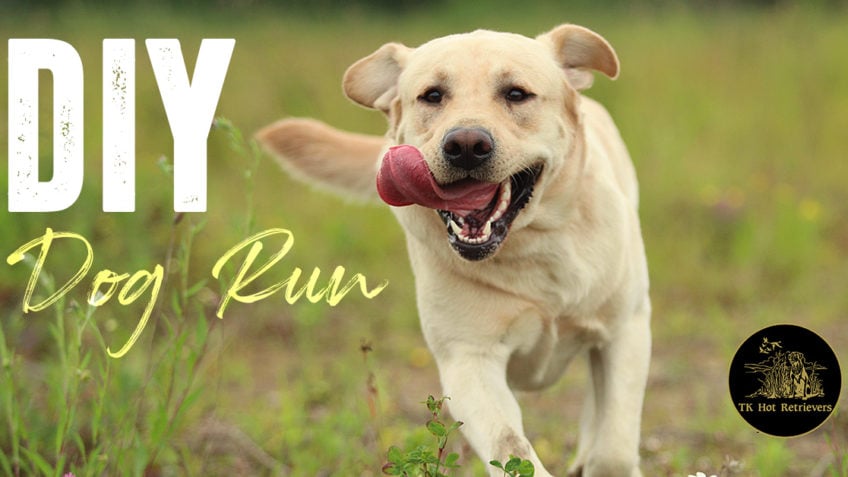 If you've decided to build your canine a dog run, you've probably discovered there is no universal way to create one. Before you start this process, it can be extremely beneficial to first familiarize yourself with these four basic and most popular styles of dog runs.
Narrow Fenced-In Area
A narrow fenced enclosure is what people usually imagine when they think of the term dog run. This style consists of a fenced area that is long and narrow-shaped. It allows for your Lab to run back and forth freely along the length of it.
The downfall of this style is your canine won't have a variety of directions to choose from when running. However, the length of the straightaway will still provide your Lab with enough space to reach their top speed.
Outdoor Kennel
Similar to the previous style, an outdoor kennel is a fenced-in area; the only difference is it's shaped more square-like. Think of this dog run style as an outdoor playpen. It's where your furry friend can get some fresh air and enjoy the beautiful outdoors. All while still staying safe and confined to one spot.
These dog runs are not made for pups who want or need to run extremely fast. They're more suited for your Lab to casually play around. If you wanted, though, you could combine the concepts of these past two styles. It would create a fenced-in area large enough for your pup to both reach their top speed potential, as well as choose from a variety of directions to do so from.
Anchored Tether
If the idea of a fenced-in area isn't what you're going for, you may find an anchored tether to be more appealing. With this style, your Lab can have an open space to run freely without the confinement of a fence. Instead, Fido would be connected to a long rope or chain that would prevent them from wandering off too far.
Your furry friend is smart, sometimes smarter than you give them credit for. And just like a pup will distinctly remember where the parameter of a shock collar will let them roam, after a few days, your pooch would also be fully aware of how far you've designated their anchored leash.
Sliding Tether
Unlike the previous style of an anchored tether, a sliding tether is not fixed to a specific spot in the ground. With a sliding tether, it'll almost look like your pooch is ziplining across your yard, except their paws will be mounted on the ground.
A sliding tether tends to be more complicated to set up than an anchored tether. But it does give your pup a more extensive range of movement. With this style, you'll have cable suspended up to at least 6 feet off the ground. With this cable, you'll set the perimeter of your dog run, thread a metal ring around it, and attach a tether to that metal ring as well as your Lab's collar.
A dog run can be an excellent option for those who can't afford to fence in their whole backyard. Or daily trips to the dog park just aren't cutting it. Tethers also allow you to secure your Lab, while still letting them roam when camping or exploring the great outdoors.