Fun & Stylish Dog Crates for Your Home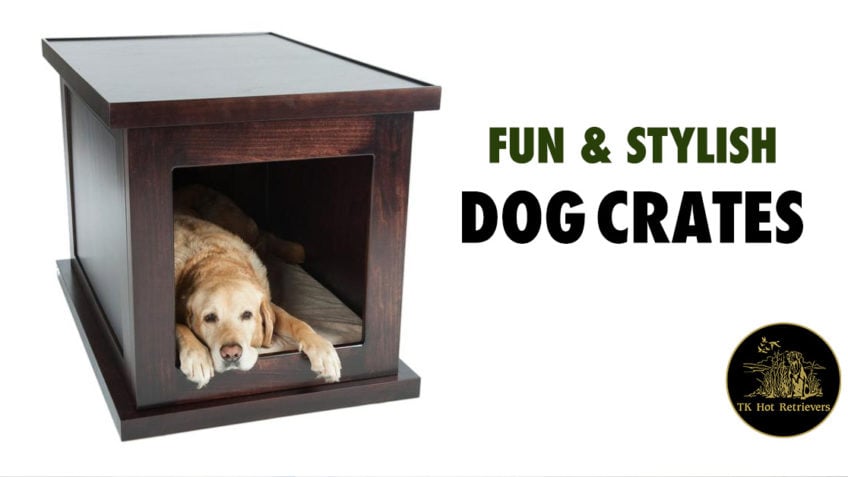 Crates and creating a space of their own for your dog is really important for their happiness. Many dogs feel comfortable and sleep well in a crate. They are also a great tool to use for training or when you're dog is young. However, crates can sometimes be an eye sore in your home. If you've spent a lot of time and energy decorating your home, you may be frustrated by putting an ugly, dull crate in your living room. Luckily there are many creative ways you can get stylish and fun with your dog's personal space. Here are a few ideas for how to add a fun flair to your dog crate for your stylish home!
Glitter and Gold
If you have girly dog who loves to be spoiled, this is a simple and quick way to make their crate fit their personality. It is also a great option if you have gold accents for the decor in your home. Just find a white or neutral metal crate and grab some gold or shimmer spray paint. Then DIY this crate! To finish off this style, add a white or neutral dog bed inside that will give your dog's crate a very glamorous look.
Under the Stairs
If you have the right type of staircase to pull this off, it is definitely worth it! It gives your dog a little home of their own where they can go when they want some time alone. On top of that, it keeps your dog's space separated in a very trendy and aesthetically pleasing way. While it requires some handyman work and some tools, it looks very cool when it's done. Check out some tips on how to DIY your own dog home under the stairs!
Bedside (Doggie) Table
If you like having your pup right by your side as night, having a bedside table/dog crate combo is a great choice for you. These come in many different styles, but usually they are just like a normal bedside table, with a draw and flat top for you to place your things. The only difference is the lower half has crate-like bars and a door that keeps your dog in their crate in stylish way! All you need to do to make this cozy and cute is add a fluffy white blanket or dog bed. Check out this option here! 
Credenza Crate
Another great option is to turn your credenza into a large dog crate! Since credenza's usually already have doors or open space on the front it is the perfect space to add some metal bars and a door for your dog. It will blend right into the rest of your decor and will be a great space for your dog to relax in style. You can buy one already made from Etsy or another store, or can try to DIY one yourself.
We hope this provided you some inspiration for how to keep your dog's crate looking stylish and in-tune with your home's decor! Let us know how you make your dog's crate fun and stylish.