Best Brushes for Labs 2021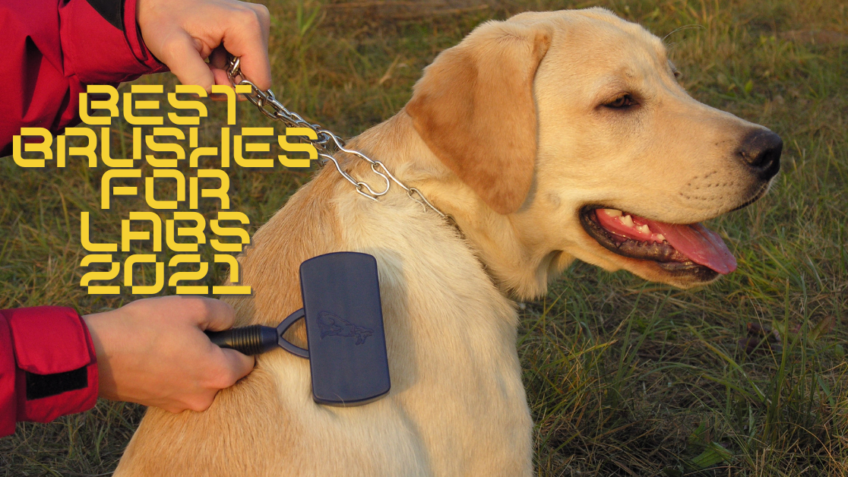 Keeping your dog looking good can be tough sometimes, but having the right brush will definitely make that task a lot easier. Although you may want to pick the first brush you see, it may not be the right one. Each breed of dog has their own style of brush.
Labrador's have a double short coat which may look easy to keep clean, but you learn very quickly that it is not. Certain brushes will work best removing their hair before it coats your furniture and clothing.
Why Brushing Your Dog is Important
Regularly brushing your Lab will keep them looking nice and neat, help circulate their natural oils, and shake loose dirt and debris to keep their coat and skin healthy. Labs are active dogs that love to get wet and muddy, so you need to make sure that no small insects make a home in their fur. Although Lab's have short hair, it only takes a few tiny insects to create skin irritation for them. When brushing your dog, you get into the habit of paying attention to what is "normal" for them. You as well get to learn their bodies and will notice any changes quicker. The routine of brushing is as well an incentive.
How to Pick the Right Brush
To help pick which brush or brushes are best for you and your Lab, below will be a list at popular products used to groom a Lab.
This product is well-reviewed. Its most loved features are the sturdy, long-lasting brush and the handle is comfortable for owners. This brush has an anti-slip handle that makes it easy to get knots out of the undercoat.
This product is self-cleaning as well. There is a button that makes the bristles retract, meaning that you can remove the dead hair without having to scrape between the tiny pins with your fingers.
This brush is valuable for what it's worth. It's also a pin brush and bristle brush in one. This product is best for everyday use, such as giving your dog a quick brush after a walk to limit the tracking of dirt into your home. This brush is also useful for distributing the natural oils over the fur and leaving your Lab's coat healthy and shiny.
This brush is as well valuable for its price. It isn't a brush that should be used daily, but with a weekly routine this brush is great for raking the dead hair from the undercoat. Cleaning this brush is easy as well because of its shape, the hair can slide off the end.
This tool is designed to tackle the big problem of shedding during the spring and autumn. The manufacturer claims that shedding can be reduced up to 90% because the design makes it easy to remove any dead hair from both coats. Cleaning the brush is easy as well, as the product comes with a "furejector" button to remove any dead hair built up in the brush.
Something to keep in mind when picking a brush is that most owners have more than one type for their Labs. When brushes are used correctly and often they save you hours of cleaning around the house.