Best Dog Beds For Labs
May 11, 2021
Fun Dog Stuff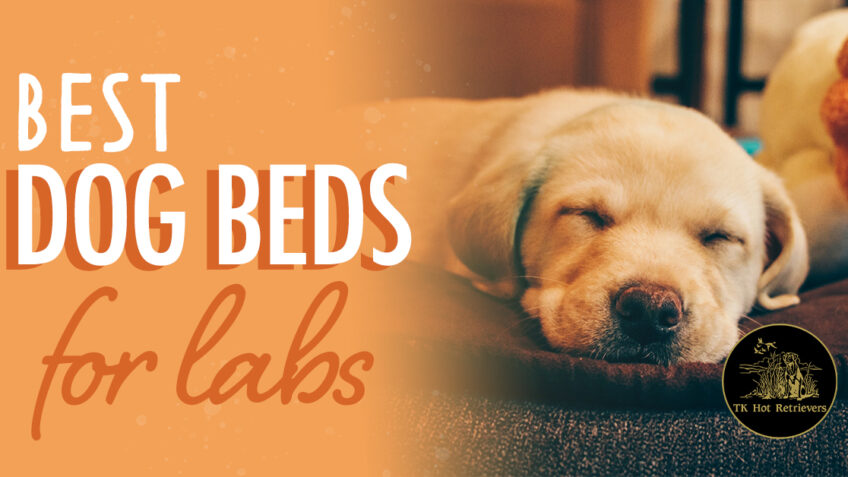 Labradors are big pups that need a bit of extra room and comfort in their dog beds. So, to help you find the best dog bed for your pooch, here are some excellent choices to consider.
Armarkat Dog Pillow Bed
The Armarkat Dog Pillow Bed is extremely reasonably priced and provides all the basic necessities: durability, size, and convenience. Since this bed doesn't offer orthopedic support, though, this bed is much better for younger and healthier canines instead of senior pups. Plus, this bed has a non-skid base that will prevent it from slipping and sliding – which is great for playful and rowdy pups. Your furry friend will also love the soft plush cover, and you'll appreciate the heavy-duty waterproof canvas that will make clean up easy.
FurHaven Plush & Suede Orthopedic Sofa Bed
The FurHaven Orthopedic Sofa Bed comes with 5 inches of quality memory foam that will provide Fido with fantastic support. This bed is great for older dogs who might be suffering from arthritic pains or joint issues. With a soft faux fur cover, your Labrador will find this bed extremely comfortable to sleep on. The cover is also removable, making it easy to machine wash and even tumble dry!
Go Pet Club Solid Memory Foam Orthopedic Bed
The Go Pet Club Orthopedic Bed is certified 100% memory foam and not a mix of memory and normal foam like some other brands. Being four inches thick, this bed will stand to last, providing excellent support and comfort for your furry friend. Like all good dog beds, this one comes with a waterproof internal cover and durable outer zipper that can easily be removed and put in the wash. Plus, the suede and memory foam are both hypoallergenic, so the bed is also great for any pups that might have allergies to synthetic fabric.
American Kennel Club Casablanca Bolster Bed
Unlike the other beds mentioned, the American Kennel Club Casablanca Bolster Bed is shaped like a nest. This is a great bed for Labs that enjoy cuddling up against a wall. The walls of this AKC bed are also extremely sturdy and durable and will hold up well to pressure. Additionally, this bed has an elastic seam that makes for easy removal and clean-up. However, it is important to note that this bed doesn't offer orthopedic support, so not the best option for senior Labs.
Getting a good bed for your Labrador Retriever is crucial to keeping them happy and healthy.