How to Safely Dye Your Retriever's Hair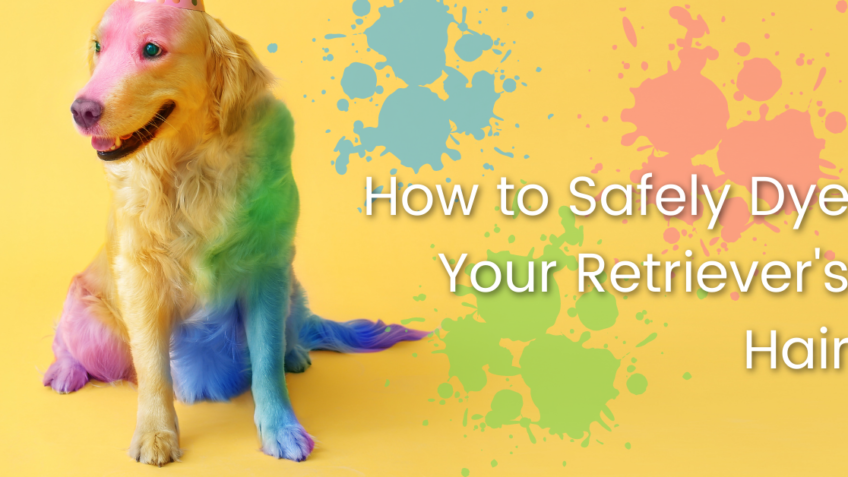 Whether you are looking to spice up your dog's day-to-day look or are trying to put the cherry on top of a doggy costume, dyeing your dog's fur can be exciting. However, dyeing your dog's fur must be done safely and with care. We have compiled some steps you can take to make your dog's fur fun and colorful while ensuring their safety.
Choosing the Right Dye
When planning on dyeing your dog's fur, the first step is to choose the dye. You do not want to choose a dye for human hair as it can be toxic for dogs. Because dogs have a different pH skin balance, human hair dye can harm their skin. By choosing a dye made naturally and with fewer synthetics, the dye is less likely to harm your dog.
You also want to ensure that you do not use permanent dye. Permanent dyes can cause harm to a pup's fur, skin, and general health. There are many chemicals in permanent dyes that are harmful to dogs.
Dye Alternatives
Foods
It is currently a trend to use natural foods as a dye. Fresh fruits and vegetables can be dehydrated by boiling them. Post boiling them, the foods leave a colored dye-like water substance behind. Although this is relatively easy and safe, some fruits and vegetables have high sugar contents and can leave a sticky residue. Try using foods like:
Carrots
Beets
Turmeric
Spinach
Natural Food Coloring
Did you know that you can use food coloring to color your dog's fur? Some normal food coloring contains harmful chemicals, so use natural food coloring instead. Simply mix the dye in some water and apply it to your dog's fur.
Dog-Friendly Dye
If you are looking for a positively safe option, try finding a dog-friendly dye. Dog-friendly dyes reduce irritation and keep your dog looking funky and fresh. These dyes are more difficult to find, so try online or in pet specialty stores.
Check Your Pup
Before applying the dye, you should check your furry friend for possible skin abrasions. You want to ensure that there are no wounds or inflamed areas as the dye can cause further irritation or infections.
Application
Applying the dye can be difficult, especially if your dog is impatient and excitable. Here are some dye application steps that will make the process much easier.
Apply sterilizing ointment to your dog's eyes
Mix dye and put into a spray bottle or other application form
Brush their fur after dry
Apply the dye evenly
Let dry
When following these tips and tricks, you can ensure your dog's safety while making its fur stand out. Take your furry friend's style game to the next level with hair dye.