Best Toys for Labs 2021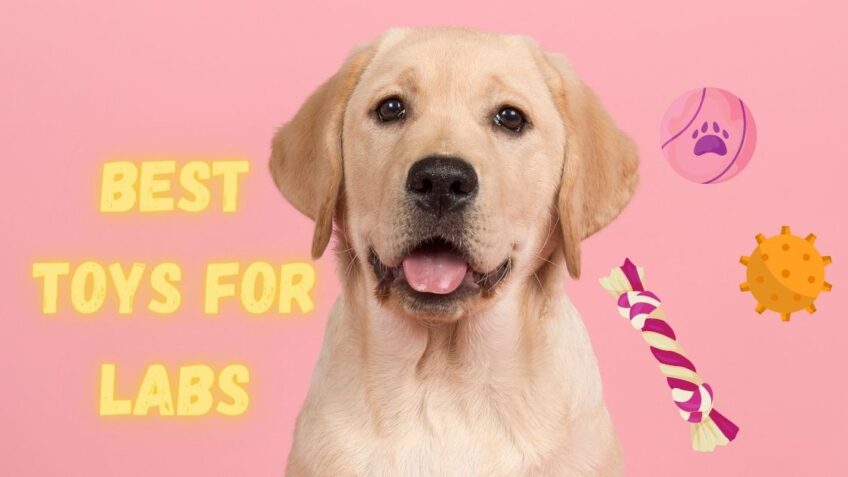 Labrador Retrievers are a playful, athletic, and energetic breed which is what makes them such a popular breed for many. Because they are so playful, it might be difficult to find the right toy for your dog and there are so many to choose from. Here are some of the best toys for labs from balls to puzzle toys.
Outdoor Toys
Kong Squeezz
This squeaky bouncy ball is fun to chase as it has a crazy bounce to it. This unpredictable ball makes it fun to play with and easy to find with its bright colors.
Jolly Pets Soccer Ball
This soccer ball is large and in charge which is great for playing outdoors as it is very durable. The ball is made from a special material that is both tough and flexible and will not deflate even if it is pierced. 
Planet Dog Orbee-Tuff
Shaped like fruits and vegetables, these toys are fun and great for playful dogs. These toys float, bounce, and are dishwasher safe – they even double as a treat dispenser if you choose.
Indoor Toys
Kong Floppy Knots
An animal that is not filled with stuffing can be a great option for dogs that love to chew and play rough. This toy features lots of textures and sounds to stimulate your lab while playing, but with less mess than a typical animal. 
Chuckit! Indoor Ball
This ball is covered in fabric to be safe for indoor playtime with your Lab. Although it is covered on the outside, it is still bouncy and fun, just with less worry involved.
Kong Stuff-A-Ball
Another treat-dispensing toy, the Kong Stuff-A-Ball can be filled with treats to keep your dog busy inside. There are ridges on the ball that are also designed to clean your dog's teeth while they play. 
Durable Toys
Rocco and Roxie Dog Ball for Labs
Specifically designed for Labrador Retrievers, this ball is made from durable Thermoplastic Elastomer to last while your dog plays. It is also slightly larger in size than a tennis ball so that there is a lesser risk of choking.
West Paw Hurley
This dog toy can be used in many different ways as it can function as a chew, fetch, or water toy. It is durable, lightweight, floats, bounces, and is dishwasher safe for all types of play with easy cleanup.
Goughnuts Dog Tug Toy for Labs
Shaped like a doughnut, this rubber ring is a great toy for Labs that like to play tug-of-war and are a little rough. It is made from durable, tough material and comes with a lifetime guarantee which is a good option for aggressive chewers. 
Interactive Toys
Omega Paw Tricky Treat Ball
This ball can be filled with food or treats that are able to fall or be pulled out while playing. This ball can entertain your dog while rewarding them with yumminess.
PetSafe Busy Buddy Barnacle
Featuring three balls, this dog toy dispenses treats as your dog plays, surprising them as they stay busy. The ball can be changed to control the number of treats that come out which is great for greedy puppies. 
Hide-and-Slide Dog Puzzle Toy for Labs
Great for developing problem-solving and keeping your dog busy, this toy requires some thought as your dog plays. There are several different compartments that can be filled with kibble or treats which need to be opened up to retrieve the food. 
These toys are all good options for Labs that are playful and in the market for a new toy. Whether in need of a treat-dispensing toy or one made for tug-of-war, this list is sure to equip you with the next toy for your furry friend.