Best Quiet Nail Grinders For Labs in 2021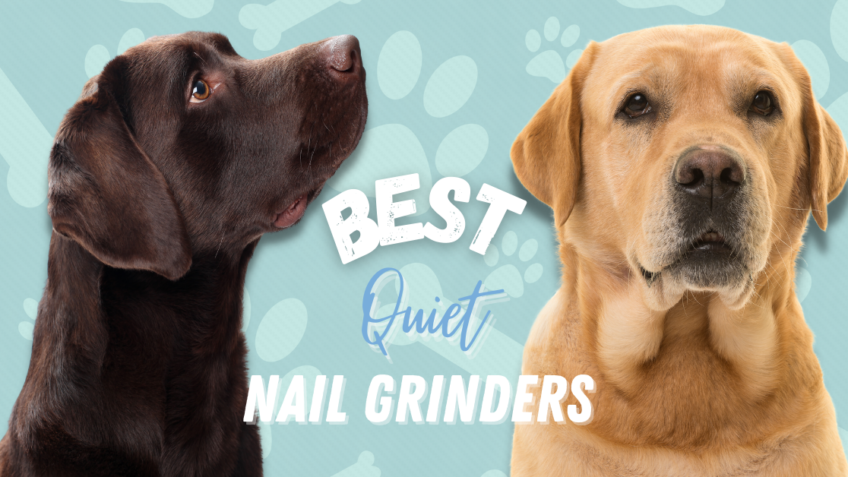 If you've ever trimmed your dog's nails, you know how frustrating it can be trying to keep your pooch calm while the sound of the nail grinders buzz, especially if you have a big dog, like a Labrador.
If your dog has had a less than perfect experience with grooming, then it can be extremely difficult to even get them to come near the nail grinders. But luckily, there are some nail grinders on the market that won't bring your dog back to their traumatizing memories of nail groomers and will let you do their nails in peace and quiet.
Dremel products are so well-known and respected in the pet industry that nail grinders are sometimes referred to as a dremel. This drill easily allows you to trim your dog's nails at two different speeds, has a 60 grit drum, and is wireless (which is a big plus if your dog likes to squirm around)!
The different speeds allow you to work quicker and more efficiently with thicker nails while the rechargeable and cordless feature ensure you can use the tool anywhere. Although this grinder is great feature-wise, it isn't the quietest on the market, so if your dog is extremely sensitive to grinders' sounds, this may not be your first choice.
The Hertzko grinder has a diamond-bit attachment and a quiet motor to create a great option for a silent-like grinder! The grinder is also cordless and comes with a USB charger, meaning you can charge the grinder just about anywhere. This grinder is perfect for those with multiple-sized pups as it comes with three different-sized openings to trim nails! Overall, this grinder is a wonderful option, but keep in mind that there is only one speed available.
If you want professional nail grooming visits to be a thing of the past, then this nail grinder is perfect for you and your dog! Wahl's nail grinder kit comes with various sanding surface attachments and speeds so you can get a professional and polished nail groom at home. Despite the speed power this grinder has, it is surprisingly quiet! But it does have a cord charger, which is something you should keep in mind if your dog is a nail grooming fighter.
This nail grinder is a great affordable option for dog parents looking for a cheaper and quiet grooming tool! FURminator's grinder is safe for nail grooming beginners with an LED light and nail guard to keep your pooch from getting caught in the grinder. The grinder also comes with two-speed options to efficiently trim your dog's nails to the desired length. The main downside of this nail grinder is the battery feature. It requires four AA batteries, so it may be the best fit for dogs that are in need of a quicker trim.