Large Dog Beds for Labradors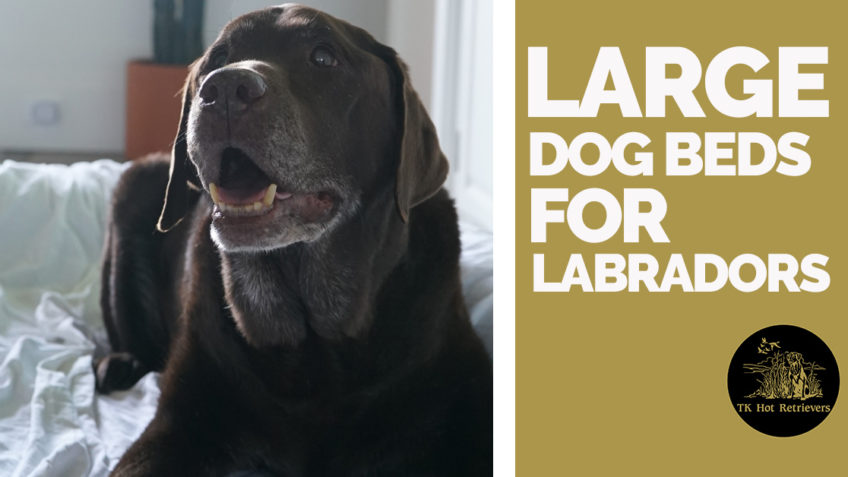 Finding the perfect bed for your large lovable lab can be hard. You need a big enough bed, with the right support, and comfortable material – all while staying in your budget. To help you find the right mattress for your canine companion here is some of our favorites.
Big Barker 7 Pillow Top Orthopedic Dog Bed
Big Barker Dog bed are typically designed for larger breeds, so if you're looking for a larger (maybe even over-sized) bed for your canine to spread out on, this may be the bed for them!
Pros
The orthopedic form built into the Big Barker 7 Pillow Top, is created to support the more substantial weight of a lab.
You can choose from three sizes – Larger, Extra Larger, and Extra Extra Large!
The bed guarantees at least ten years of use before its shape will change (with warranty a included to back the claim up)
These beds are machine washable and made out of soft microfiber material
Cons
Can be a bit pricey for the average consumer
Must wash before use otherwise the dye from the bed may stain flooring
Majestic Pet Suede Bagel Dog Bed
Just like the name implies, the Majestic Pet Suede Bagel Dog Bed is made in a bagel shape, unlike other typical beds that are rectangular.
Pros
The bedding is quick and easy to assemble
You can choose from 2 large sizes: 24-inch and 52-inch
The base is waterproof
Cons
To get rid of its chemical smell, you must wash before use
Some pets break it quicker than others, so rowdy dogs may not do well with this bed
Armarkat Pet Bed Mat
Armarkat is a brand known for providing top quality dog beds, and their Armarkat Pet Bed Mat is no exception.
Pros
Durable and Water Resistant
Made from polyfill material, for dogs allergic to memory foam
Comes with a washable and high-quality coverslip
Cons
Not made from memory foam for dogs who need it
No guarantee included
The bed sometimes makes a crackling sound when your dog hops on it, which could cause them to confuse it for a toy and chew on it
Happy Hounds Oscar Orthopedic Dog Bed
Orthopedic comfort quality & and reasonably priced are two phrases that don't often come together yet is the best way to describe the Happy Hounds Oscar Orthopedic Dog Bed.
Pros
The bed is meant for senior dogs, so your lab (no matter their age) will be presented with extreme comfortability
This bed can help prevent senior dog health issues – such as arthritis
Reasonably priced
Cons
The covering is connected to the bedding and cannot be removed.
For over energetic dogs, this bed is not chew-proof, and its zipper may not last long
Before investing in a bed for your furry friend, it doesn't hurt to do some other research as well. Read other dog owners reviews, ask fellow pup parents, and even check with your vet to see if there are particular brands or products they recommend.