Can Labs Have Allergies?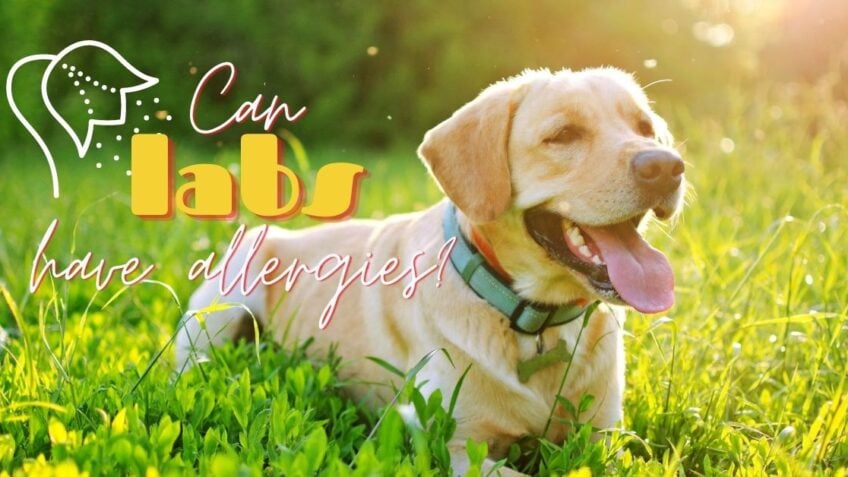 Labrador Retrievers are the most popular dog breed in America and are often beloved by all. The Retriever is a great family, therapy, and rescue dog with its high intelligence and loving warmth. Although they are a popular breed, they do come with their own set of health issues. Labradors are prone to skin allergies caused by different intolerances from their lifestyle such as environment, parasites, and food.
Labrador Coat
The Labrador Retriever has a sleek, double coat. The first layer was created early on for protection and the underlayer was made to be waterproof. This coat type was originally formed when the dogs originated in Newfoundland where they were fishing dogs. Their heavy coat has two shedding periods throughout the year so they need to be groomed often. Locating skin problems is easy with a lab's short coat, luckily.
Skin Allergies
One of the more common skin allergies for Labrador Retrievers is atopic dermatitis. This is a hereditary disease that causes itchiness on the skin. It is also common that dogs could get atopic dermatitis from their environments such as inhaling pollen, dust, or mold. On the other hand, they could have gotten this icky allergy from a parasite such as a tick or a flea. If it is not any of these cases, your dog could have a food allergy.
Allergy Locations
Potential breeding grounds for these allergies are the face, snout, ears, stomach, and sides of their bodies. Chewing or scratching on certain body parts could be an indicator of allergies. A continuation of chewing or scratching could lead to further skin damage and infections. Dogs have a hard time soothing their ear area, so frequently check their ears for different skin irritations.
Food Allergies
If there is regular irritation on your lab's skin, it could be from a food allergy. This is typically caused by animal protein, as they often interfere with a retriever's inflammatory and gastrointestinal processes. Check the ingredients on your dog's food or treats and check with your vet to see if there are any possible irritants.
Treatment
For quick relief, over-the-counter skin soothers are a great option for dogs. Using different hypoallergenic bath products is an easy way to treat the skin since you should bathe your dog regularly. You can also try topical sprays and lotions that can relieve your dog's skin allergies. Speak to your dog's veterinarian if these allergies are persistent.
If your dog has a food allergy, try switching their food to something more natural. Try a probiotic in your dog's routine that is specific for combatting skin and food allergies.
As always, consult with your veterinarian to see what is the best option for your Labrador Retriever. Different types of skin allergies mean different treatment options for your dog.